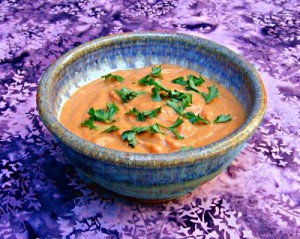 This is a great, simple recipe for making a delicious and nutritious carrot soup.  It is served hot but on a hot summer day some people like it cold, too.
The cooking process for this one is fast and easy, though you may have to plum the depths of your kitchen cabinets to locate and drag out that seldom-used blender or food processor.
(I have written a review of my favorite food processor.  Check it out here: Cuisinart 14 Cup Food Processor).
On the finished soup, you can also add a dollop of low fat sour cream to mix things up.
If you want a different flavor, you can put in a tablespoon or so of ginger (I guess making it into carrot ginger soup), but I haven't tried that yet.
In addition, a little rosemary can add a nice touch, or even toss in a small onion that has been finely chopped and lightly sautéed in olive oil.
As always, don't be afraid to experiment a little!
Carrot Soup Recipe Ingredients
10 carrots, peeled and sliced
1 tablespoon sugar
2 cups water
4 cups skim milk
3 tablespoons whole wheat pastry flour (you can use all purpose flour)
1/4 teaspoon ground nutmeg
1/4 teaspoon salt
1/4 teaspoon ground black pepper
fresh parsley, chopped
Directions
Heat the water, carrots and sugar in a large saucepan.  Cover the pan and simmer for about 20 minutes, until the carrots are tender.
Drain the carrots, but set aside and save some of the sugary liquid for later.
In another pan, whisk together the milk, flour, nutmeg, salt and pepper.  Cook this mixture over medium heat, stirring continuously until the white sauce thickens.
Place the cooked carrots and the white sauce into the blender (or food processor) and puree the mixture until it has a smooth consistency.
Use some of the saved sugary water (from cooking the carrots) to add to the soup until you reach the desired thickness.
Pour the carrot soup into separate bowls and toss some of the fresh parsley on top as a garnish.  Serve.