One word can summarize my review of my Cuisinart 14 Cup Food Processor: awesome!
Sometimes I like to sit and watch my favorite cooking shows and wish I could handle a knife like the top chefs do. They slice away at meats and chop vegetables with the speed of a rabbit on coffee. However, I know that I don't have the years of practice, nor the dexterity to match those skills. Plus I rather enjoy having all of my fingers, and I would imagine practicing those chopping and slicing skills is a little, well, dicey. Sorry for the pun.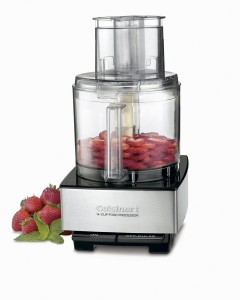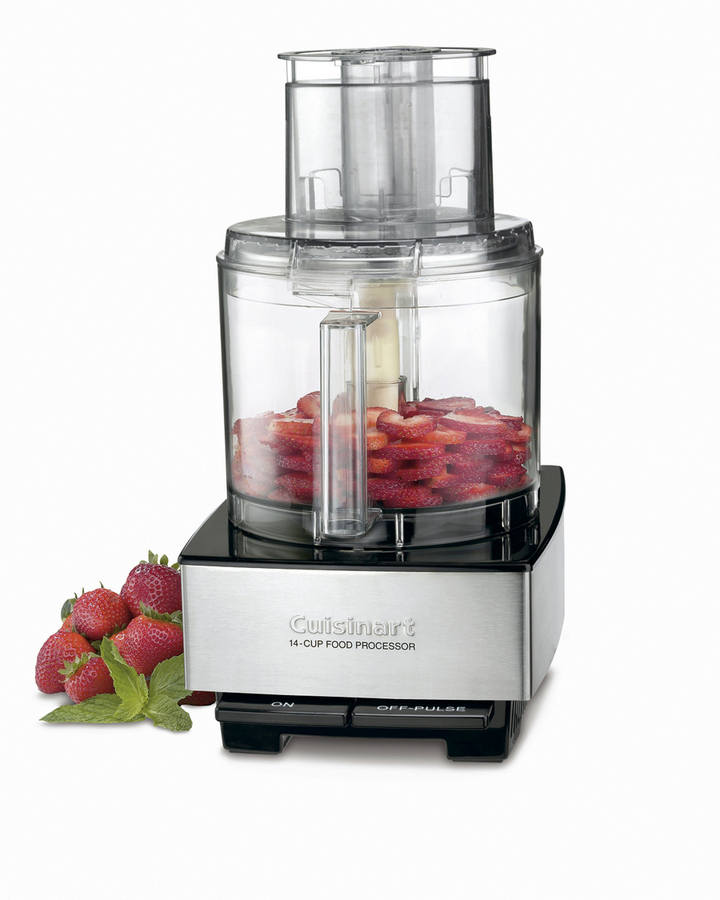 Enter one of my best friends in the kitchen: my food processor. With this handy appliance I can slice, dice, and chop like the best of them.
The Cuisinart 14 Cup Food Processor
The brand of my current food processing friend is Cuisinart, trusted for decades as a quality provider of kitchen products. Julia Child helped champion the Cuisinart Food Processor in the 1970s, and today the company's products are used by renowned chefs and home cooks everywhere.
With this beloved kitchen appliance you can chop, slice, shred, mix, mince, emulsify, and knead! How's that for a versatile little gadget that does not take up that much coveted kitchen counter space? 
Specifically I use the Cuisinart "Custom 14" (DFP-14BCN)
, which has a fourteen-cup container. I like to cook a lot of different things, and frequently make meals for groups, so I need the space of a 14 cup bowl. The unit comes with two different feed-tubes, one of which is large enough for a decent-sized potato.
Easy, Clean, Versatile, and Quiet Appliance
My needs are simple with a food processor: be easy to use, easy to clean, and versatile. I also prefer not to have something that sounds like a jet engine going while I'm cooking, and this my Cuisinart 14 Cup is blessedly quiet.
It is also very easy to use and very easy to clean! All the attachments and blades are dishwasher-safe, and though you should never immerse the motor base in water, it cleans up easily with a simple wipe down. Mine came with a custom spatula, a book of recipes, and a short (30 min.) video to get you started with your new food processor.
I really like the brushed stainless steel finish, and the fact that the processor does not take up a lot of counter space.
Check out the Cuisinart DFP-14BCN here on Amazon:
Cuisinart DFP-14BCN 14-Cup Food Processor, Brushed Stainless Steel
Here are some of the specs if you buy it new:
– Intuitive "on" and "off/pulse" buttons
– 14-cup Lexan work bowl; extra-large feed tube; small and large pushers
– Stainless-steel slicing disc, shredding disc, chopping blade, and dough blade
– Spatula, dishwasher-safe parts
– Instruction/recipe booklet and video included
– Measures 7-1/2 by 9-3/4 by 15-3/4 inches
– 3-year limited warranty with 5-year warranty on motor
If you need something smaller or larger, there is also a "Cuisinart Food Processor Buyer's Guide" on Amazon included on the page for the Cuisinart 14 Cup Food Processor.
You can find the link to the guide–> here on Amazon.
Cuisinart DFP-14BCN 14-Cup Food Processor, Brushed Stainless Steel
Get yourself a Cuisinart 14 Cup Food Processor today and start cranking out some fierce, healthy dishes!