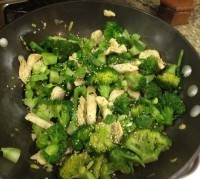 I absolutely love stir-fry!  The cooking technique is quite basic, and the best thing is that you can easily change up any stir-fry recipe by switching vegetables, adding or removing lean meat or tofu, or altering the spices.
A healthy chicken stir-fry can be flavored by soy sauce (I prefer the low salt kind), teriyaki sauce, peanut sauce, or a number of other sauces.  Just be sure to check the ingredients on any bottled, pre-made sauces you might buy, because sometimes a healthy dish can be derailed by the addition of an unhealthy sauce!
It may make sense to provide different sauces and let those sharing your healthy dinner select their own.
I make my low calorie chicken stir-fry with olive oil.  I love the flavor and the healthy fats contained in the oil don't hurt, either!
This is a very inexpensive dish, and the variation I make on any given night depends on what awesome, fresh vegetables are on sale at my local supermarket or farmers' market.
You can always use frozen vegetables, too, but obviously fresh tastes better and is healthier.  I think you will find that fresh vegetables on sale are cheaper than the pre-mixed, chopped, frozen kind.
In addition, you can try marinating the chicken for a few hours or overnight to add to the flavor and juiciness.  When I use soy sauce for my healthy chicken stir fry, I only marinate it for a half hour or so because I think it gets a little to salty.
As with many recipes, you should never be afraid to mix things up and try different variations.
Here's one version of the recipe!
Healthy Chicken Stir Fry
Extra virgin olive oil
3 medium chicken breasts, skinned
1 cup of rice (I prefer long grain, brown rice)
2 medium heads of broccoli
2 red bell peppers
1 medium onion
2 cloves of garlic
Black pepper
Low-salt soy sauce
First, cook the rice per the specifications on the package.  I like to add a little of the extra virgin olive oil to the water the rice is cooking in, but that is not necessary.
While the rice cooks, chop the broccoli, peppers and onion.  My favorite kitchen utensil is my garlic press, but if you don't have one, chop the garlic up finely.
Slice the chicken into thin strips.
Prepare your wok with the olive oil and heat it to medium heat.  Don't use too much oil, we're stir-frying, not deep frying!  If the oil starts smoking, your temperature is too high.
Put the sliced chicken in the wok, and add a light coating of black pepper while stirring frequently to prevent burning.
When the chicken strips turn medium brown add the chopped vegetables and garlic.  Increase the heat to medium-high and quickly cook your vegetables until the onions become see-through.
Serve the stir-fry on top of a bed of the rice.
Hmmmm, how do you say "bon appétit" in Chinese?