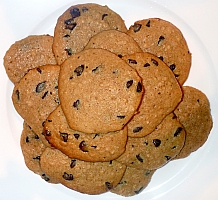 My love for chocolate chip cookies runs deep.  I do not discriminate.  I love all kinds, from warm, gooey, homemade ones, to packaged cookies you buy at the market.  My favorite ice cream flavor is chocolate chip cookie dough.
In the past, I would sit with a glass of milk and a package of Chips Ahoy.  I would dip a cookie in the milk, eat it, rinse and repeat.  Of course once I began my quest to try and eat better, my milk and cookie binges sadly had to end, or at least I would have to find a lower fat choice.
These cookies are an awesome, lower calorie version.  They are moist and tasty, and just as simple to make as regular chocolate chip cookies.  Applesauce takes the place of some of the oil and you can't even taste the difference.
I still dunk these cookies in milk (low fat, of course), but I do limit how many I allow myself in one sitting.
At least the ones are not as evil as their high-fat alternatives.
Enjoy!
Low Calorie Chocolate Chip Cookies
1 ¼ cups whole-wheat flour
1 ¼ cups all-purpose flour
1 tsp baking soda
½ tsp salt
¾ cup softened low fat margarine
2/3 cup sugar
2/3 cup firmly packed brown sugar
¼ cup applesauce
1 tsp vanilla extract
1 large egg
1 large egg white
½ cup reduced fat semisweet chocolate chips
Low fat cooking spray
Preheat the oven to 350 degrees.
In a bowl, combine the all-purpose flour, whole wheat flour, baking soda and salt.
In a separate large bowl put the margarine, white and brown sugar.  Use a mixer at medium speed.  When the mixture is light and fluffy, add in the applesauce, egg, egg white, and vanilla, and beat well.
Mix in the flour mixture from the other bowl at a low speed until well blended.  Stir in the chocolate chips.
Drop the dough with a spoon, each an inch apart, onto pre-sprayed baking sheets.
Bake the cookies for 11-12 minutes or until almost set.  Let them cool a couple of minutes or until firm.  Remove the cookies from the cookie sheets and place them on wire racks to cool.
Of course, they are great warm!
Check out a great Healthy Granola Bar Recipe  <— here