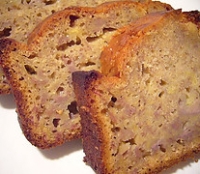 Here is a great, simple recipe for low calorie banana bread.  I always loved the way the kitchen smelled when my mom would make banana bread.  Of course, she was old school so her recipe contained heaping mounds of butter and sometimes she would toss in an extra egg or two to make it even richer!
In my quest for healthier, low calorie substitutes for Mom's flavorful dishes, I have come across several different ways of making healthier banana bread.
This version uses egg whites and substitutes applesauce for the butter.  Feel free to play around with the levels of spices.  For example, add a little more nutmeg or use a little less cinnamon.  You can even experiment with different healthy toppings like sugar-free, low fat ice cream or frozen low fat yogurt.
Sometimes I like to put a few drops of spiced rum into the mixture, also.  It might add a calorie or two but the extra flavor is worth it.
So grab those ripe bananas and bake up a wonderful treat!
Vitalicious VitaMuffins – Easy Way To Lose 10 lbs
Recipe for Low Calorie Banana Bread
1 ¼ cups whole wheat flour
½ teaspoon baking soda
1 ¼ teaspoons baking powder
2 teaspoons cinnamon
¼ teaspoon nutmeg
pinch of salt
1 ½ cups of mashed bananas
½ cup sugar (or use the correct proportion of a sugar substitute)
2 egg whites
¼ cup of applesauce
1 teaspoon vanilla extract
(optional) chopped pecans or walnuts
Preheat the oven to 350 degrees.
In a bowl, combine the whole wheat flour, baking soda, baking powder, salt, nutmeg and cinnamon.
In a separate large bowl, mix the bananas together with the egg whites, sugar, applesauce and vanilla extract.
Stir the in flour mixture until moistened.  Pour into a greased, sprayed, or non-stick, 8-inch loaf pan.  Place into the oven and bake at 350 degrees for around 45 to 50 minutes, or until a toothpick comes out cleanly.
Let the banana bread cool in the pan for at least 10 minutes.  Take it out of the pan, slice your low calorie banana bread and enjoy.
To mix up the recipe you can also toss in some fresh fruit like blueberries, chopped dates, and cranberries, or top it off with a tablespoon of low fat yogurt.
The best part is that when I make this banana bread, the kitchen smells just as it did when my mother used to make it.
This is a simple, healthier way to make low calorie banana bread!