Do you hate peeling hard-boiled eggs?  I do.  But now I've found a really cool product that can cook perfect hard-boiled eggs without the shell!
And right now it only costs under ten bucks!
Check out Eggies on Amazon!
I like to eat a lot of salads, and one of the things I love to put in a salad to get a little more protein is a nice, hard-boiled egg.  One large egg has about 80 calories.  It is known that eggs are pretty high in saturated fat and cholesterol, so I do use eggs sparingly.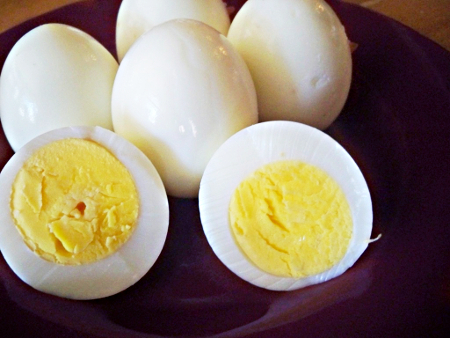 I used to boil several eggs together, and then start in on the tedious process of trying to crack and peel off the shells from the cooked eggs.
I have tried all the different "tricks" you can find on the internet, but none of them make the process easier for me than the Eggies System.
Some Tricks to Peeling Hard-Boiled Eggs
If you don't have Eggies, and cook your eggs the old way, there are a couple of different things you can do to make it a little easier to remove the shells.
Older eggs that have been in the refrigerator for a while will be easier to peel after being boiled than fresh eggs, and if you add a little salt to the water, it may help in the peeling process.
Another tip is to crack the egg as you run it under cold water.  This will help wash away shell fragments as you work your way around the egg.
Some people like to zap a cooked, cold egg in the microwave for 15-20 seconds.  This can assist in separating the egg shell from the membrane.
Perfect Hard-Boiled Eggs Without The Shells!
Of course, all of these steps and tips can be forgotten if you get some Eggies.  This "As Seen On TV" product makes the process of hard-boiling eggs fast and effortless.
With Eggies, you simply crack the egg and put the contents into each Eggie.  Boil away, and in a few minutes you will have a perfectly cooked egg, and NO SHELLS TO PEEL!
I also like to put a couple of drops of olive oil into each Eggie and spread it around, making it even easier to remove the cooked eggs from the plastic container.
As you can tell, I love this product and recommend it highly.  If you like to cook them, but don't want the hassle of peeling hard-boiled eggs, give Eggies a try!
Click on the photo below and check out the Eggies System!